Ross

written and directed by Jeff Moule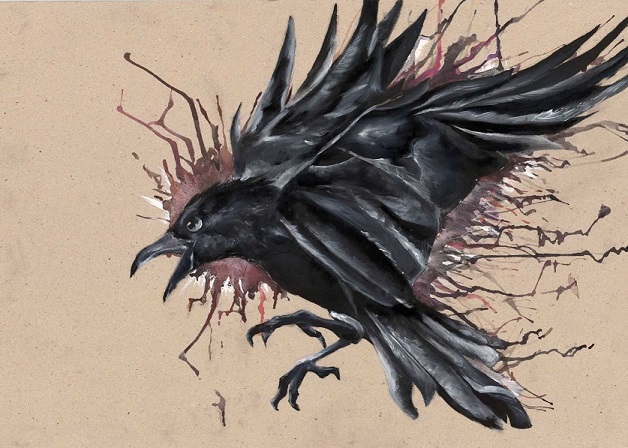 This new play took a fresh look at Shakespeare's Macbeth and turns the traditional story on its head.
Ross, written and directed by Jeff Moule, looks at the events of the original play through the eyes of a minor character, whose name gives the new work its title.
In Shakespeare's version, Ross is a fellow soldier with Macbeth, and witnesses his comrade's rise to power as a blood-thirsty, paranoid King. He watches much of the action, but says nothing.
Jeff Moule's new play gave him a voice and put him at the heart of the action in a way that challenges the audience's traditional understanding of Shakespeare's Macbeth.
Ross was performed in blank verse, echoing the spirit of the original without being a parody. It also drew on historical sources about the real Macbeth. And of course, it wouldn't be complete without some witches.



NODA Review by Joyce Handbury
This play has been written and directed by Jeff Moule and is premiered by Belper Players following his four previous collaborations with them. It is based on Shakespeare's Macbeth but Jeff decided to write this alternative play making Ross the central character. In the original play, the Thane of Ross was the bringer of messages and the describing of events to the main characters so in fact, was very much in the 'centre of things'. From this perspective, Jeff evolved his plot around the very aspirational Ross, making him the main protagonist, also making more prominent, the role of Lady Macbeth and, Ross and Lady Macbeth were lovers.
There was no set as such, the balcony at the Centre had been covered so as to resemble a castle battlement whilst the floor was an arrangement of 16 black and white squares. Good use was made of large black cubes.
The title role of Ross was extremely well played by James Strath. His very wordy script was so effortlessly, efficiently and competently delivered. Beth Undy was superb as Lady Macbeth. She wonderfully and dramatically captured the obsessive determination in her belief that she should be Queen, to finally becoming so mentally and hysterically unstable that she eventually 'fell' from the battements - a great performance. Henry Stubbs was first rate as Sergeant, he was so natural in his delivery and the two Soldiers played by George Comber and Matthew Mellors were splendid. Freddy Levesley excelled as Fleance, the young son of Banquo. He was so self assured for one so young and his diction was spot on. The witches played by Jane Wilton, Mollie Middleton, Janet Allison and Tracey Wilkinson were so deliciously and delightfully 'frightful'. They were depicted as traders, mainly in goods taken from dead bodies, as drug dealers and of course having the ability to cast spells. Their fantastic costumes and make up were just so outrageous, as was their behaviour - they were terrific and obviously enjoyed every moment! I thought the recollections of events by Porter were so brilliantly and humorously delivered by Michael Fletcher and the scene where he, the Gateman (Jeremy Crane), the Servant (John Briscoe) and the Maid (Sarah Holme) were gossiping about what had gone on elsewhere, was so full of anecdotes, opinions and mischief it was so perfectly and so naturally expressed. Good support came from Terry Stevenson (Angus), Nick Mothershaw (Menteith), Roger Whiting (Banquo) and Martin Drake (Lennox). Some scenes were quite harrowing but so well executed and the excellent sound and lighting effects added to their overall effectiveness. Music throughout was by Susan Stevenson and Mark Webster's playing of the Bagpipes certainly added authenticity and ambiance to the setting. Costuming was modern in style with the exception of Lady Macbeth who wore several, most beautiful, medieval gowns. Jeff Moule certainly achieved his aim in setting out to devise a plot that would weave in and out of Shakespeare's tale and see it in a different perspective. His hours of research and writing resulted in a very thought provoking and totally creative and innovative take on an established piece of play writing and his super-objective "Blame not witches, sprites or elves, the harm we do, we do ourselves" said by the witches at the end of the play, was definitely met. Many congratulations to everyone involved.

Artsbeat Review
J
It's a brave writer who attempts to tweak a Shakespeare play, but Jeff Moule clearly wasn't daunted by such a challenge and the result of his labours – Ross A Scottish Play – was premiered by the Belper Players last night.
Ross, a minor character in The Bard's Macbeth, is responsible for delivering messages to the major characters, which means is he is on the spot during many of the play's significant events. But what might have been going on behind the scenes?
Moule, presumably fascinated by that question, set out to devise a plot that would weave in and out of Shakespeare's tale, but would be seen from a new perspective – with Ross as the protagonist.
He has also brought Lady Macbeth to the fore with a new interpretation of what she may have been plotting, with her ambitious lover the Viking Thane of Ross, played by James Strath.
Shakespeare's guilty madwoman was transformed into a more politically intelligent, feisty woman, who planned to reclaim the throne for the Viking Picts and Brianna Undy gave an extremely polished performance in the role.
It was Moule's version of the witches that made this drama for me though.
I have seen The Scottish Play many a time in various different guises, but I can truly say that these were the most authentic and convincing witches I have ever encountered.
They were cast as an underclass to which we can so relate today – socially abandoned human scavengers dealing in drugs and stolen goods. The characters created by Jane Wilton, Janet Allison, Tracey Wilkinson and Mollie Middleton were superb. Both terrifyingly devilish and amusing, but somehow strangely upsetting.
If you are looking for an amateur dramatic group to stage an ambitious new play then the Belper Players must come high up on the list. They rarely fail to deliver.
This is the fifth time that Moule has worked with the team and they clearly have a great rapport. Under his direction they worked hard with his impressive, but challenging script and the restraints of the stage space at Strutt Centre in Belper.
The witches aside, I particularly enjoyed a scene during which the downstairs staff gossiped about the banquet where Macbeth saw the ghost of Banquo and I thought the battle scenes were also very cleverly co-ordinated.
Whether or not you are a Shakespeare fan this interesting play is definitely worth seeing.
The rest of the cast were Terry Stevenson, Nick Mothershaw, Henry Stubbs, George Comber, Matthew Mellers, Freddy Levesley, Sarah Holme, Martin Drake, Roger Whiting, Michael Fletcher, Jeremy Crane and John Briscoe.
The music was by Susan Stevenson and the live bagpipe playing by Mark Webster. The set design was by Terry Stevenson and the company and the lighting and sound was by Jamie Vella.