ROAD

by Jim Cartwright

Directed by Jane Wilton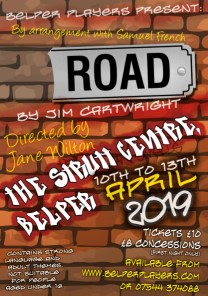 NODA Review by Joyce Handbury
Jim Cartwright's Road is not a story as such, but is a series of sketches about the happenings of the lives of residents living in a deprived, working class area of northern England over the course of a single night and takes place during the government of Margaret Thatcher.
The cast consisted of twenty two actors playing thirty five different roles with an ensemble of five players. It was a huge undertaking for the company and Director Jane Wilton certainly made the whole thing work and pulled it all together wonderfully.
The excellent set, designed by Barry Brown and built by the cast and crew, depicted the various scenarios with the addition of a 'pub' (always busy) which later a became a 'chippy' and good use was made of the balcony that runs alongside one wall of the hall. As always, the props were superb. The lighting, sound and costumes, especially the most appropriate music, were all splendid.
There were no weak links in this very large cast they were all terrific, each and everyone becoming the various characters and making them so believable.
But, not decrying the talents of anyone in the cast, I must however, mention just a few stand-out performances. James Strath was first rate as Scullery, a shiftless loafer, who acted as narrator and tour guide introducing us to the different characters so that they could tell their story. Mik Horvath was so convincing as the vicious skinhead who turns to religion and later was hilariously funny and over-the-top as Bisto, a DJ. As the smug, impudent Brink, Joe Riley was great but as Joey, a despondent young lad on a hunger strike who has taken to his bed, what an outstandingly moving and heart-rending delivery he gave which finally ended in his death. With him in this situation was Alex Smith, who gave a most poignantly, moving and quite calming portrayal as his girlfriend, Clare. It was a brilliantly conceived and such a heart breaking scene - I certainly had a tear in my eye. Tracey Wilkinson was great as Brenda, an alcoholic, and the totally intoxicated Helen (Lisa Benson), who staggered aimlessly about the stage throughout the whole performance deserved a medal - she was absolutely fabulous.
Everyone else in the cast (Johnny Vincent, Jeremy Crane, Liam Duffy, Mollie Middleton, Andrew Barlow, Louisa Jenkins, Jamie Brooks, Morgan Richter, Chelsea Richter, Alyson Koe, Roger Whiting, Jane Robertson, Nick Mothershaw, Tina Hampton, John Briscoe, Patricia Church, Jackie Maltby and Pip Price) as I have already said, was superb, and all of them helped to make this, at times funny but very disturbing and thought provoking show, a great piece of theatre. Many congratulations to everybody involved.
Artsbeat Review
Jim Cartwright's Road could so easily have been written about Austerity Britain. The inequality and hopelessness of Thatcher's 1980s is just as prevalent now.
As Belper Players performed the series of melancholic vignettes at the Strutts Centre last night a chilling resonance hung over the audience.
Thirty-three years ago we hoped things might change, but in reality the rich have just got richer and the poor poorer.
What hope is there for the future now we might ask?
The play's director Jane Wilton hoped it would be thought-provoking – so she would have been touched to hear one mum trying to explain the wider politics causing our sad situation to her questioning daughter on the walk home.
Cartwright's play is a brutal, yet lyrical, anthem to working class people and poverty. He gives a voice to the poor as raw, outspoken truths pour out in a series of monologues and duets during a evening's tour of a scruffy, depressed road in a small Northern town.
Moving from the street corner to the chippy and pub, living rooms and bedrooms, we meet the young, middle-aged and old as they tell us the stories of their bleak, wretched lives.
That's not to say it is a total misery-fest. It might be bitter, but it is also funny and, on a few occasions, in an almost farcical way.
Staging such a seminal play is a brave decision and it demanded dedication from a cast of more than 20 actors, some of whom we were told had no acting experience. The superb performances given by all of them did nothing to give away the identities of the newbies and the whole drama was a triumph for the team.
There were of course stand-out deliveries from stalwart Belper Players such as Mik Horvath, who was scarily adept as Skinlad and magnificent as the outrageously dressed DJ Bisto.
Joe Riley, who played Billy in Billy Liar last year, was again excellent as the cocky young Brink and the despairing Joey, whose deathbed scene with his teenage girlfriend Clare, played by Alex Smith, moved some of the audience to tears.
Everyone adored Tracey Wilkinson as the withered alcoholic, Brenda, who was reduced to begging for cash for a drink from her own daughter.
However it was probably Lisa Benson, as the totally inebriated Helen trying to seduce a drunken young soldier, who stole the show.
She had remained totally in character, swigging at a bottle and staggering gently around the stage, throughout the two-and-a-half hour-long drama – until it was time for her own very poignant vignette.
She was brilliant.


The confines of the wide shallow stage space at the Strutts Centre are always challenging but on this occasion it was perfect for Cartwright's promenade along the 'road' and set designer Barry Brown did a cracking job with help from Jamie Vella on lighting and sound. The props were also all spot-on – it's always the little touches that make the difference.
The rest of the cast were Johnny Vincent, Jeremy Crane, Liam Duffy, James Strath, Mollie Middleton, Andrew Barlow, Louise Jenkins, Jamie Brooks, Morgan Richter, Chelsea Richter, Alyson Koe, Roger Whiting, Jane Robertson, Nick Mothershaw, Tina Hampton, John Briscoe, Patricia Church, Jackie Maltby and Pip Price.