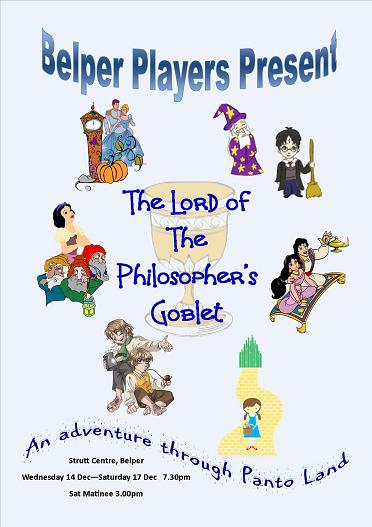 Reviewed by: Joyce Handbury on Wednesday 14 December 2011
Venue: The Srutt Centre, Belper
Type of Production: Pantomime
Producer/Director: Keith Whittaker
Choreographer: Richard Platt

This is their first venture into Pantomime and for it they chose an original script by local author, Phil Royle. He conceived the play as a serious exploration into the medieval Grail Legends and it was first developed for the staff of the Royal School for the Deaf in Derby to present to pupils, parents and friends.

It was originally performed and "written" in sign-language. Subsequently it has been enlarged and expanded into English for use in this present production and Belper Players decided to turn it into a pantomime! It is set in darkest Derbyshire where the Boggits live and when one of them, Dodo, gets a mysterious birthday present, he, Spam and Billy are catapulted into a frantic search through the realms of Panto-land, racing to find six magic goblets before the Evil Lord can gain control of the Shire and all of Panto-land.

The prologue was beautifully delivered by Maggie Burns after which we met the trio of Boggits who were delightfully and mischieviously played by Jack Beeston (Dodo), Jodie Hyde (Spam) and Emma Middleton (Billy). They were set the task of finding the goblets by Lord Grumbledore wizardly played by Roger Whiting but were helped by the spell-binding performance of Jem Crane as Garry Potter (loved the shorts!). The first port of call was to Oz where we met Dorothy innocently played to perfection by the exuberance of Chelsea Richter. Marion Middleton as Aunt Em and Richard Hobson as Uncle Henry gave us a super rendition of ' Somewhere Over the Rainbow' and Brianna Undy, Heather Fletcher, Joe Mothershaw and Amy Mothershaw delighted us as the street-dancing and singing Munchkins. Glinda was witchingly portrayed by Jood Undy. The Gobbits and Garry next found themselves visiting Cinderella to find that Prince Charming was most definitely under her thumb. Eva Smith (Cinderella), the Prince (Jood Undy) and Velco (Josie Beresford) were great but stealing this part of the show were Dan Skidmore and Nick Mothershaw who were 'awfully good' as Griselda and Ammonia the ugly step-sisters. Their antics and especially their singing reached new "heights"! The Gobbits and Garry next met Snow White bewitchingly played by Maggie Burns and delighting us again were the four Munchkins with the addition of Sarah McMullen, Sue Cartwright and Sunsanne Wood who together were the small and not so small seven fun-loving dwarfs! The last visit was taken via a magic carpet to Arabia to visit Aladdin splendidly played by Morgan Richter, Su-Shi, charmingly portrayed by Marion Middleton and the Genie who was spiritedly played by Sue Cartwright.

Throughout there were innumerable references to the local area and one in particular that rang many bells, particularly for the people of Belper, was made by the Evil Lord - "we should knock down Belper and build the largest Supermarket in the world"!! The music, props, lights and sound effects added greatly to the overall production but to portray the many required settings on a performance area with no stage or wings must have been a mind boggling worry, but they did it, and very effective it was too. At the back of the set was a large 'picture frame' and for each scene a beautifully painted different 'cloth' was hung - imaginatively magical. This very ambitious undertaking was excellently produced and I sincerely hope that this will not be the the last but the first of many 'Pantomimes' to come (oh yes it will!). Congratulations to everyone involved.