My Kingdom for a What?

written and directed by Sophie Mander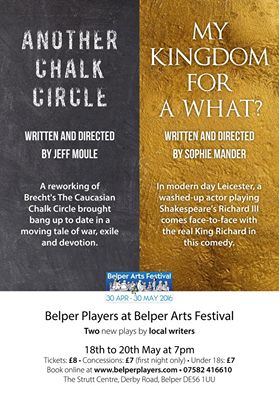 NODA Review

by Joyce Handbury
This is the second of the Belper Player's double bill and is a debut play written by Sophie Mander. Sophie has always been fascinated by King Richard III so much so that she spent a year researching him for her History A Level coursework. Taking a gap year after her A levels she wanted to write a play and for her, a logical choice was to write one about Richard III. It was very obvious from the content of the play that she did indeed know the subject matter inside out. The interest surrounding Richard was aroused four years ago by the discovery of his remains in a Leicester Car Park bringing to the forefront the debate concerning whether he was evil, as created by William Shakespeare, or much maligned as the 'Ricardians' would have us believe. Sophie wanted to imagine what Richard himself would think of all the controversy and devised this play in which his ghost appears to Lionel Maddox MBE, now a somewhat forgotten actor, who is revising the role he was noted for - that of Richard III, and the play is being put on in a small provincial theatre in Leicester. Jane Wilton was outstanding as the 'Director' of the play, Geraldine Villiers. She has such a natural flair for comedy and her mannerisms, and her inherent acting skills made her an ideal choice for this role and adding the final touch were her outrageous outfits especially, at one point, the wearing of a Leicester Football Club scarf. Mik Horvath was superb as 'he who likes a drink' Lionel Maddox. He was resplendently dressed which matched his splendid performance getting every ounce of comedy from the derisory witticisms he delivered and his hilarious antics were sublime. Geraldine gave Richard an amulet which, when trying to read the inscription, caused the arrival of the Ghost of Richard III to appear. The Ghost thinks he is 'in the here and now' which alludes to some extremely funny incidents and comments. Josh Sly was in his element as the Ghost, his exuberant, over the top delivery was just perfect and an ideal foil for the interactions between the two 'Richards'. I thoroughly enjoyed this cleverly conceived insight into Richard's life brought to fruition by three exceptional actors. Sophie, congratulations on this your debut into both writing and directing - a brilliant achievement on both counts.
ArstBeat Review

by Amanda Penman
I cannot imagine that many young people spend their gap year after A Levels writing a new play but that is exactly what 19-year-old Sophie Mander (pictured) decided to do and the results of her labours were premiered at Belper's Strutts Centre last night.
The play – My Kingdom For A What? – was performed by the Belper Players as part of a double bill of new work for the Belper Arts Festival and proved that Sophie is a name to watch in the future.
Sophie, who also directed her debut production, says she was fascinated and inspired by King Richard III after spending a year researching him for her history A Level. It therefore seemed quite logical to her to choose him as her subject for the play. Especially since so much attention has been given to the monarch following the discovery of his remains under a Leicester car park a few years ago.
Her new storyline has a once successful actor Lionel Maddox MBE returning to a small theatre in Leicester to revive his flagging career by once again playing the part for which he was most famous – Richard III. What he doesn't expect is to come face-to-face with the ghost of King Richard in his dressing room.
Sophie says that her play seeks to discover what Richard himself would think of what is said about him now in the 21st century.
The piece was brilliantly funny with plenty of great one-liners and comic misunderstandings, as well as a more serious underlying message, and the audience loved it.
Sophie may be one of the youngest members of Belper Players but she called upon some experienced actors to take on the three roles she had created and she seemed really quite thrilled with how they portrayed her characters.
Jane Wilton was absolutely marvellous as the Leicester theatre's dotty, star-struck director and the stage lit up every time she stepped on to it. The part was absolutely perfect for her.
Mik Horvath was hilarious as the alcoholic washed-up Lionel Maddox and he delivered his somewhat sardonic lines effortlessly.
Josh Sly obviously relished the role of the swashbuckling Richard III who doesn't realise he is dead, and carried it off with great enthusiasm.
Well done Sophie on a superb debut play hopefully there will be more to follow.