Murdered to Death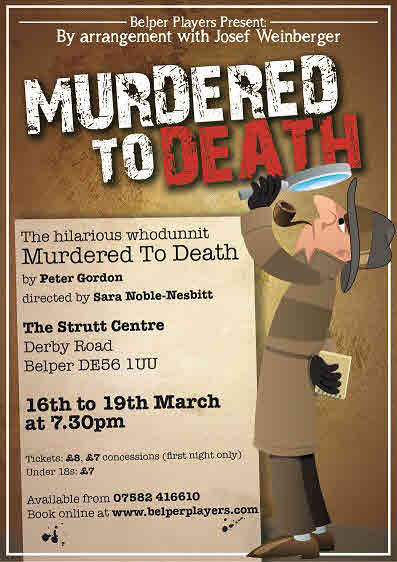 NODA Review


by Joyce Handbury
Murdered To Death is a spoof based on the best Agatha Christie traditions where Miss Marple is the amateur sleuth, but in this case we have a Miss Maple. It is set in the lounge of a country mansion during the 1930's where widowed Mildred Bagshot has invited some friends and acquaintances for dinner. Miss Maple, who lives in the village, appears on the scene and proceeds to invite herself to dinner. As the invited guests arrive they are introduced, or not, by the somewhat creepy, sherry-loving Bunting, the Butler, well played by Wayne Parkin. Ann Taylor gave a fine performance as Mildred Bagshot in the short time she was on stage, because it is not long before she is shot! Her niece, Miss Dorothy Foxton, at times seemingly down trodden but with a quick wit, was suitably portrayed by Sophie Mander as was the acerbic Mrs. Margaret Craddock by Judy Richter and Roger Whiting was thoroughly convincing as Col. Charles Craddock. Morgan Richter was superb as the very over-the top and extremely provocative socialite Miss Elizabeth Hartley-Trumpington but what a remarkable and sudden transformation emerged when she reverted to her common criminal character. I also loved her singing and guitar playing. Her partner in crime Pierre Marceau, a French artist, was strongly played by Joey Riley - his exaggerated French accent also later disappeared. Of course, after the murder of Mildred, the police were called. The aptly named Inspector Pratt was played by Nick Mothershaw. He brought the play to life, portraying the incompetence, the confusions, the malapropisms and the corny stupidity of the Inspector absolutely brilliantly. This was totally offset by the rational and laid back nature of P.C. Thomkins, well executed by Rob Chambers. Last, but by no means least, Sheila Kay Sly was excellent and just perfect as Miss Joan Maple. During the interval a polling station had been set up in the bar area where you could vote for your prime suspect and the scattering of 'red dots' against the various names indicated that the audience was definitely split on whodunnit!. The set was splendid, well furnished and decorated (I would have liked to have seen a 'lit' fire as this was alluded to in the script – a very minor niggle though). Costumes were appropriate and good lighting and sound complemented the whole ambiance. Congratulations to everyone involved with this production but most of all congratulations must go to the Belper Players Amateur Dramatic Society as it is their 80
th
. anniversary year. What a splendid achievement and how appropriate to be performing a play set in the very era that they began!
ArstBeat Review

by George Gunby
Belper Players are filling their 80th year with a wide variety of productions that includes new plays by local writers as well as established favourites. The first production comes into the established category and it's a great way to start a birthday party.
Murdered To Death – the title says it all even before we meet the aptly named Inspector Pratt ( a Home Counties Clousseau ) and the amateur sleuth that is Miss Maple. With shoals of red herrings and a Cluedo collection of whodunnit suspects, Peter Gordon's spoof on Agatha Christie has one thing wrong with it…. the evening has to end.
In the drawing room of a remote country mansion during the 1930's, we meet a variety of characters including the obligatory butler with a liking for sherry, a high society debutante, a dodgy French art dealer and a Colonel who has the stiffest of stiff upper lips despite consuming copious amounts of alcohol. The big question is will the inept and bungling Pratt unmask the murderer before everyone else meets their doom?
Director Sara Noble-Nesbitt has surrounded herself with an excellent cast. Murdered To Death is an ensemble piece and I'd rather praise the whole rather than individuals. Ann Taylor, Sophie Mander, Wayne Parkin, Roger Whiting, Judy and Morgan Richter, Joey Riley, Sheila Kay Sly, Rob Chambers and Nick Mothershaw give us a two-hour, very British giggleathon.
The jokes come thick and fast and, yes, some are very old and others could have come from Christmas crackers but they are part of the charm of this spoof. Miss Maple's revelation towards the end of the play is the biggest, in no small part due to Sheila Kay Sly's delivery, of a number of laugh out loud moments.
Barry Brown's excellent set is complemented by light and sound from Jamie Vella and Henry Pratt. Ann Taylor has selected costumes with her usual precision.
The first night audience was a virtual sell out and Friday is sold out.
Some tickets remain for Thursday and Saturday but move quickly to avoid disappointment.
You won't regret being at the start of the Belper Players birthday celebrations.
Murdered To Death is performed at Strutt's Community Centre, Derby Road, Belper.