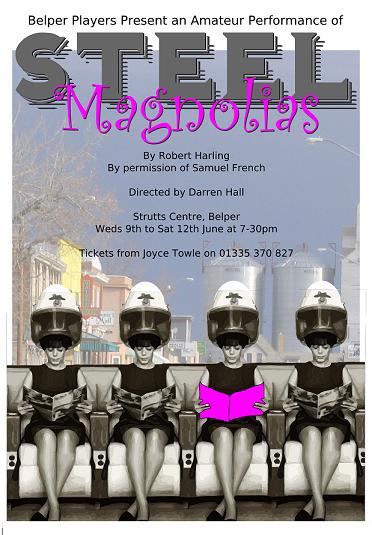 Robert Harling's
humorous, poignant and timeless play,
Steel Magnolias
.
Directed by
Darren Hall
9th - 12th of June 2010 at Strutts Centre, Belper.
Synopsis:
Revolving around Truvy's Beauty Parlour in a small parish in modern day Louisiana, "Steel Magnolias"is the story of a close-knit circle of friends whose lives come together there.

The action is set in Truvy's beauty salon in Chinquapin, Louisiana, where all the ladies who are "anybody" come to have their hair done. Helped by her eager new assistant, Annelle, who is not sure whether or not she is still married; the outspoken, wise-cracking Truvy dispenses shampoos and free advice to the town's rich and curmudgeon: Ouiser, an eccentric millionaire; Miss Clairee, who has a raging sweet tooth; and the local social leader; M'Lynn, whose daughter, Shelby the prettiest girl in town, is about to marry a "good ole boy."