ARTSBEAT REVIEW:
Take a thrilling spy novel, add a dash of Black Adder Goes Forth and Monty Python and you have a theatrical triumph.
Jeff Moule's new play Caging the Wild Birds freely adapted from John Buchan's Mr Standfast especially for the Belper Players is a riotous blend of hammy acting and inventive stagecraft which together produce an evening of pure pleasure.
The Players wanted a production with a large cast and which would work in the confines imposed on it by the lack of a stage at their venue the Strutts Centre.
They asked Moule to help and he didn't disappoint them. He both wrote and directed the fast-moving parody and managed to use 26 actors in 38 different roles.
Working with such a large cast may have meant fewer costume changes but they were still faced with a dizzyingly high number of sets – from the trenches to the Cotswolds, trains planes, boats and bomb shelters.
It must have seemed ludicrously impossible when they read the script but they pulled it off by using brilliant effects, buckets of imagination and faultless (well almost) co-ordination and timing.
You really did feel as if you were on the boat with them as the cast swayed from side to side and the scene in the aeroplane cockpit was truly brilliant.
The use of original artwork projected on to the wall behind the action as a form of narration was inspired.
The tongue-in-cheek adaption sticks roughly to the story of hero Richard Hannay's adventures in the later years of World War I, as he is recalled from active service on the Western Front to undertake a secret mission hunting for a German agent at large in Britain.
He works undercover disguised as a pacifist, roaming the country incognito and simultaneously falling in love with his undercover contact Mary Lammington.
Cast in the role of Hannay was Julian Woodcock, who was almost permanently on stage.
He played the goofily charming part with deadly earnest winning plenty of guffaws from the audience. It was a virtuoso performance for which he deserves huge congratulations.
Alongside him, as the play's femme fatale Mary Lammington, was Keren Adler who had the necessary over-acting down to a fine art and was a joy to watch.
The villain of the piece, Moxon Ivery, was played by the indomitable and entirely convincing Terry Stevenson, who seems to be able to adapt to any role the players give him.
There were also fine performances from Alyson Koe as Miss Tilley Tabasco, Maggie Burns as the comic gem of a Scottish postmistress and Roger Whiting in a variety of minor roles.
A special mention should also go to Henry Gray and Emma Middleton who disguised as a valet and maid were constantly on the stage to ensure swift prop changes as the action moved at breakneck speed around them.
And of course there were the musicians, Susan Stevenson, Madame Touches; Anna Yates, Signorina Bella Voce and Paul Garrud, Signor Maestro Cantante, who entertained us beautifully with songs from the war years reminding us of what it was like to be left at home as the men left for the frontline.
This was an evening of entertainment filled with fun and gags but also with a poignant nod to the differences between the "ruling classes" and the realities of the trench warfare faced by the masses 100 years ago.
The rest of the cast were: Martin Drake, Sir Walter; Sara Noble-Nesbitt, Miss Harriet Hopkins; Nathan Handy, Captain Blaikie; Sue Cartwright, Doria Wymondham; Sue Wood, Claire Wymondham; Jeremy Crane, Tancred Jimson; John Mobbs, Sophie Mander, Jeff Moule and Alana Mothershaw, speakers, Nick Mothershaw, John Blenkiron; Vanessa McAuley, Mr Gresson and Elliot Moule, soldier.
The stage and set design was by Barry Brown; musical arrangements, Susan Stevenson; assistant director, Sara Mothershaw; costumes and properties, Ann Taylor; lighting, stage and sound effects, Richard Platt and Jamie Vella; original artwork and projections, Julian Woodcock; stage management Joan Hardy; programme production Stuart Koe; marketing and publicity, Alyson Koe, Nick Mothershaw and Sue Wood; box office Joyce Towle and Alyson Koe.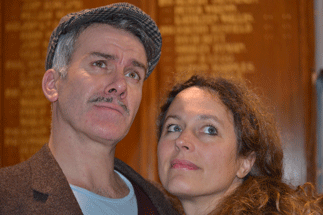 NODA REWVIEW by Joyce Handbury:
This was a play that I had never heard of which wasn't at all surprising when I found out that it had been specially written for Belper Players by Jeff Moule. He had taken inspiration from Patrick Barlow's stage version of 'The 39 Steps' and adapted John Buchan's 'Mr. Standfast'. It was set in WW1 and is a satirical slant on the story of hero Richard Hannay who is recalled from active service to undertake a secret mission to find a German agent. He goes around the country disguised as a pacifist and even finds his way to Switzerland. There is a cast of twenty four players with some doubling up to portray the play's thirty five characters. There are also twenty nine scenes which are not listed in the programme but were projected instead, with appropriate drawings or photographs, on to a large screen behind the performing area which was also used to display the words of the many included songs, thus enabling the audience to 'sing-a-long'. One has to remember that there is no 'stage' or 'wings' in the Centre and the front row of the audience is literally inches away from the action so to attempt such an ambitious undertaking was no mean feat. The various settings included the trenches, trains, boats, planes, a bookshop, a Scottish Post Office, a bomb shelter etc. were all depicted by the clever use of 'boxes' and props, and were moved in the main by a Lady's Maid (Emma Middleton) and a Gentleman's Valet (Henry Gray) who sat at the side of the stage the whole time polishing away at the silver and "represented the role of domestic service and deference in this period". The role of Brigadier General Richard Hannay DSO, who I might add was virtually never off the stage, was brilliantly played by Julian Woodcock. I cannot praise him enough, his portrayal was outstanding, he absolutely owned the stage, his professionalism, his whole being made the character totally believable, a truly magnificent performance. He met and fell head-over-heels in love with Mary Lammington, the femme fatale of the piece, and in this role Keren Adler's exquisite over-acting was a sheer delight. A fine representaion of the 'agent' Moxon Ivory was splendidly delivered by Terry Stevenson and also deserving of mention was Maggie Burns, Alyson Koe and Roger Whiting in their respective roles, but actually, everyone who played a part, was worthy of praise. I must however, say how much I enjoyed the musical interludes. The singing of songs from the war years by Anna Yates and Paul Garrud was divine and they were accompanied on the piano by Susan Stevenson.
Congratulations must go to Jeff Moule, who not only wrote the play but directed it as well, for producing what was a tremendous theatrical experience and a wonderful night's entertainment that was both full of fun and yet reminded us of what life was like during those dreadful years of war.