BILLY LIAR

by Keith Waterhouse and Willis Hall

Directed by Jane Wilton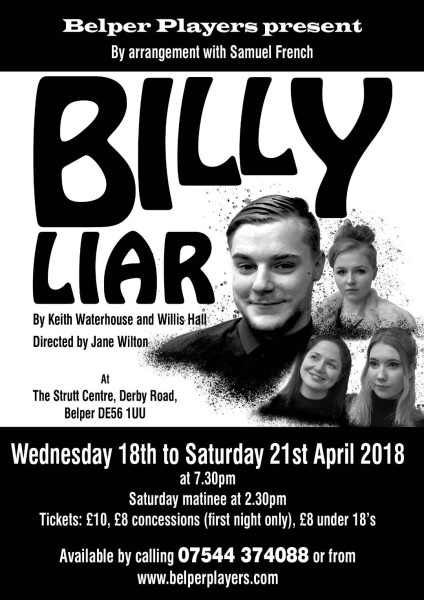 In the North of England in the 1960's, a young man dreams of escaping the nest built by his working class family. Billy turns to fantasy and his life becomes hilariously chaotic. His imagination runs riot as he seeks outlets and opportunities to get away. Based on the classic novel by Keith Waterhouse.

NODA Review by Joyce Handbury
Billy Liar was written by Keith Waterhouse and Willis Hall and tells the story of a young man from the North, Billy Fisher, who weaves a world of his own out of his day dreams. He is an incurable liar, idle and dishonest, and to escape from his dull job as an undertaker's clerk and his dreary domestic background he imagines himself in so many different situations that truth and fiction become hopelessly intermingled. His family is unable to understand or control him but do realize that he is a good for nothing.
The group are the first to perform in a new space, Studio 107, at the Strutt Centre and on the face of it, it seems to be an ideal area to meet their needs and the audience have nice comfortable seats - a definite bonus!
The set design and staging was top notch. The realistic creation of a 1960's living room complete with authentic props of the times was just amazing (loved the flying birds) and there was even a small outside area. The attention to detail is very characteristic of this group.
To find someone that can not only cope with the huge undertaking of playing Billy but who also has the necessary capabilities to carry it off is essential, and Joseph Riley was indeed just that person. He was totally at ease in the role portraying the complexities of the character superbly. He was totally convincing, even quite likeable, whilst at the same time stringing everyone along with his lies, deceits and extravagant stories. An excellent performance. Great and crucial support came from the rest of the cast members. We first met Billy's grandmother, Florence Boothroyd, before the play even started as she was having her feet washed and massaged by Billy's mother as we entered the auditorium. Lisa Benson was delightfully eccentric as Florence. Her whole demeanour, her mumblings about the old days and what should be done about Billy were just perfect. Billy's father, Geoffrey Fisher, is totally infuriated, dumbfounded and exasperated by his son's inability to conform and Mik Horvath brilliantly conveyed all of these traits. His angry outbursts were quite formidable and I did think at one point that he really was 'going to blow a gasket'. A truly superb performance. Another fine and believable delivery came from Verna Baylis who was every inch the maternal, emotional, concerned and bewildered mother. Billy is engaged to two girls at the same time but only one of them has a 'ring'. Barbara, prudish, intense, dreaming of marriage, children and living in a cottage, is that girl. She was played to perfection by Lou Jenkins who throughout had to constantly eat oranges, terrific dedication! Her rival for the 'ring' was Rita and Brianna Lindy went to great pains to express her feelings on the matter. Her over the top, vicious outpourings and insults to both Billy and his family were just great. Liz, an old flame, returns to the mix. She was delightfully and calmly played by Mollie Middleton and you really felt that she cared for Billy and that this 'love' was returned. There was a lovely chemistry between the two of them and her wanting to get away and for Billy to go with her seemed as if it was finally going to happen and Billy was going to sort himself out. He even packed a case and walked out to catch the midnight train to London with Liz. But no, he reappears, empties his case and sits on the settee............ oh well, Liz did try. One person I've not mentioned was Andrew Barlow who gave good support as Arthur Crabtree, Billy's best friend.
We were all asked to leave the auditorium at the interval and on the way out, along the corridor, children from the Propbox Theatre were taking part in various activities. When I reached the bar area Tracey Wilkinson and Tina Hampton - 'Sounds of the Sisters' were introduced by John Briscoe as Cliff the Compere and the girls proceeded to sing well known songs from the 60's. However, 'Shadrack and the Shovellers' - Roger Whiting, John Taylor and Jeremy Crane, were desperate to do their 'bit' and after much agitation and questioning managed to get in on the act! Cast members joined in dancing along to the music. What a super addition to the show - I loved it. Appropriate costumes, excellent lighting, the splendid set and props and of course the extremely talented cast all added to make this a powerfully profound and theatrical piece of drama, with at times, some very amusing asides. Congratulations must go to Director, Jane Wilton and to her wonderful team.


ArtBeat Review

When you have young actors with the talent of Joseph Riley among your ranks it must be tempting to chose a production so you can match them to a character they were born to play.
I have no idea if that's what Belper Players did when selecting Billy Liar as their spring show but the leading role definitely had that young man's name written all over it and he clearly relished the part.
Whether he was lumbering about in his dressing gown dishevelled and sleepy-eyed, wooing the ladies with his sexual charm or weaving his way through a maze of his fibs and fabrications, Riley was excellent.
That's not to say this was a one-man show. He might have been the central character, but surrounding him were a strong team of actors, not least the brilliant Mik Horvath who gave a tremendous performance as feckless Billy's exasperated, hard working father Geoffrey.
He and Verna Bayliss as the long-suffering mother Alice, were a good solid post-war middle aged couple struggling to understand the flawed hero in their midst.
Billy has three girls on the go. He has two of them fighting over one engagement ring and a third wanting him to run away and get married.
Lou Jenkins perfected the part of the frigid, orange-eating Barbara who dreams of the perfect home and family while Brianna Undy's feisty and ferocious Rita came across as a girl you definitely wouldn't want to mess about.
Mollie Middleton is another young actor to watch in the future. She did a good job of bringing out the tender-hearted side of Billy's old flame Liz.
What is always impressive about a Belper Players production is the attention to detail and the set design. Everything from the newspaper Geoffrey was reading to the Tetley's ashtray and Dionne Warwick singles on the sideboard were carefully chosen.
They were using a newly created studio at The Strutt Centre in Belper and director Jane Wilton had made the whole occasion a totally immersive experience for the audience from the minute they began to walk up the stairs to the auditorium.
The Players even extended their efforts into the bar during the interval with extra entertainment and members of the cast in character. If you go along then make sure you join in the fun it would be a shame to miss it.
The rest of the cast not mentioned so far were Lisa Benson as Florence Boothroyd (grandma) and Andrew Barlow as Arthur Crabtree.
Taking part in the extra curricular activities were children from Propbox Theatre, Isabelle Graham, Isabella Margiotta, Bella Stevens, Thomas Dickinson, George Dickinson and Oscar Harrington; John Briscoe as Cliff the Compere; Tracey Wilkinson and Tina Hampton as the Sounds of the Sisters and Roger Whiting, John Taylor, John Briscoe and Jeremy Crane as Shadrack and the Shovellers.
The set design was by Barry Brown and lighting and sound by Jamie Vella.