The Diary of Anne Frank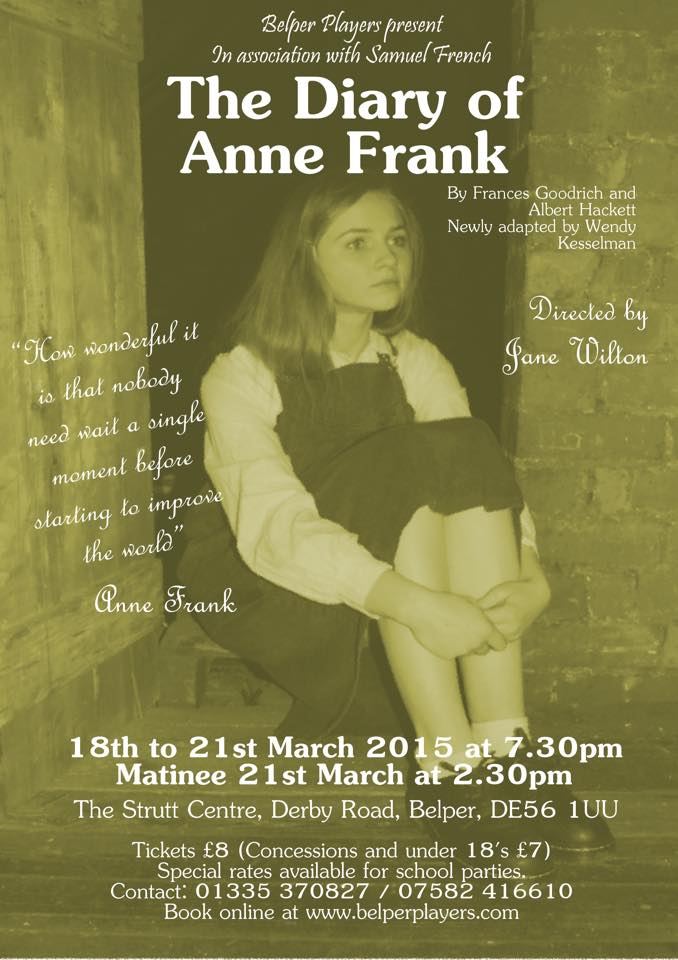 NODA Review
by Joyce Handbury
Jane Wilton, the Director, put forward the idea of performing this play to coincide with the 70th. anniversary of the death of Anne Frank in Bergen-Belsen, the camp where she died, which was liberated in April 1945, just weeks after her death. This version was adapted by Wendy Kesselman in 1997 and is said to deromanticise the more familiar adaptation by Frances Goodrich and Albert Hackett by restoring to the stage the fullness of her thoughts and leaving out much of the sentimentality. To find a young girl to act the very demanding title role must have presented the group with what must have seemed a mammoth task but, what a find they had in the 15 year old Brianna Undy. What a remarkably talented young actress she is, portraying all the various emotions with such insight and her naturalness and stage presence were outstanding for one so young especially as it was her first major acting role. I cannot praise her enough for this superb characterisation. The acting of the rest of the cast was exemplary each painting a vivid picture of the individual differences and personalities of their specific role. Mr. and Mrs.Van Daan were splendidly played by Michael Fletcher and Ann Taylor as was their son Peter, by Joe Riley and also Mik Horvath as the grumpy dentist, Mr. Dussel. Terry Stevenson was excellent as Otto Frank showing restrained authoritativeness throughout. After the inevitable ending he brilliantly delivered, with such anguish and torment, a truly moving monologue. Sheila Kay Sly beautifully captured the emotions of Edith Frank and Sophie Mander gave a very praiseworthy performance as the quiet, self-effacing sister of Anne. Good support came from Helen Barley as Miep Gies, Jeremy Crane as Mr. Kraler and from the people playing the Guards and Civilians. The performance area has a balcony running across the side of the room and great use was made of this especially in the opening sequences. There is no stage at the centre and full use was made of the performance area depicting various rooms - kitchen, bedrooms etc. but I feel that this big space didn't really convey the cramped conditions and the confinement in the attic that they all had to endure. Nevertheless it was an excellent production and really brought home the awful attrocities that existed and sadly, still exist today. Congratulations to Jane and the whole team but especially to the wonderful cast for all their hard work which must have been, for them all, a very emotional experience.
Arts Beat Review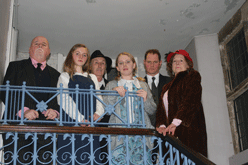 Goose bumps rise as you walk into the intimate setting of The Diary of Anne Frank by Belper Players.
The audience sits just inches from the stage and the bleak and shabby rooms where Anne and her family lived for two years during the Second World War emit a mood of sadness and foreboding.
Director Jane Wilton wanted to produce the play to mark the 70th anniversary of Anne's death in a concentration camp but what she also wanted was a new generation to be able to confront the true horror of the Holocaust.
By staging this gripping adaptation by Wendy Kessleman, that includes extracts from Anne's diaries interwoven with accounts from survivors, she has certainly achieved that aim.
It is a stirring and tender play that at times makes the audience gasp.
So wrapped up in the characters we become that we almost forget the ending and actually begin to hope, as they do, that they may survive when they are told liberation is near.
The terror felt when the Nazis burst through the door is therefore all the more tear-jerking and real.
Belper Players make ingenious use of their surroundings at the Strutt Centre.
The former school hall is overlooked by a long corridor gallery, which the drama group use to create the Amsterdam street outside their 'prison' complete with Nazi soldiers. This bold move reminds us throughout the production just how the people in the city were persecuted by Nazi rule.
Anne, played by 15-year-old Belper School pupil, Brianna Undy, and her parents Otto, played by Terry Stevenson and Edith, Sheila Kay Sly, and her older sister Margot, Sophie Mander, moved into the upper floors of an office building to hide from the Nazis for what they hoped would be a short time but which turns into two years.
They shared the space with another family – the Van Daans – Mr Van Daan played, by Michael Fletcher, is Otto Frank's business partner and his wife, played by Ann Taylor, is emotionally attached to her fur coat. Their teenage son Peter, played by Joe Riley, has brought his cat. Later Mr Dussel, played by Mik Horvath, a dentist moves in.
They are brought supplies from the outside world by Miep Gies played by Helen Barley.
Brianna, who is acting in her first major role outside school, is definitely a name to watch out for in the future. She carried off the challenging task of playing such an emotional part with great intelligence. She revealed an empathy with Anne that brought the diarist to life in front of us.
Another talented young actor who is now becoming a regular on the stage for the players is Joe Riley and he improves with every part.
Terry Stevenson is no stranger to roles that require him to be both tender and tough – he was in Someone Who'll Watch Over Me and Caging The Wild Birds – and as usual he gave a mighty performance.
The rest of the cast is Mr Krayler, played by Jeremy Crane; guards, Paul Davies, Andrew Barlow and Stephen Lee Rees; civilians, Maggie Burns, James Brennan, Rob Chambers, Sue Woods and Pauline Revill; voice of Hitler, Cliff Middleton and voiceovers Barry Brown and George Gunby.
The set design was by Barry Brown; lighting and sound, Jamie Vella and Henry Pratt; original music, Susan Stevenson; costumes and props, Ann Taylor; stage manager Stephen Lee Rees; set construction Barry Brown, Ron Mander, John Burns, Nick Mothershaw; prompt Maggie Burns and publicity Alyson Koe and Sue Woods.