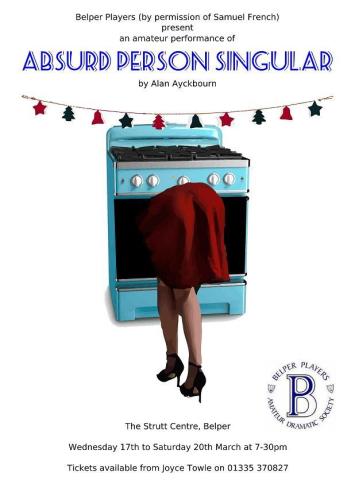 National Operatic & Dramatic Association
Award Nomination

We received a nomination for
Production Award for Best Play
for this production.
See awards, for more information, including the full NODA review.
Review published in the Belper News
Alcoholism, pill-popping and mild electrocution aren't the cheeriest of situations; but the Belper Players used them to raise some laughs as they performed Absurd Person Singular at the Strutt Centre last week. The Alan Ayckbourn play follows three married couples as they battle with and against one another admidst a social minefield of mental illness, infidelity, class snobbery - and a very large dog.

To add to the farce, it's set at Christmas over three consecutive years, in three different kitchens, descending the characters into further misery as they're forced to make awkward conversation with aquaintances they don't even like as they sip on their G and Ts.

The first Christmas is set in the humble abode of Sidney and Jane, played by brilliant young actors Neil Winfield and Jo Hayes. Neurotic doormat Jane nervously fusses as Sidney braces himself to impress some influential contacts.

But disaster ensues when Jane can't find the tonic and the mortification of it all forces her to hide in the garden as Sidney laughs too loudly at his bank manager's jokes.

The second act takes place at Geoff and Eva's. By this point we already know Geoff is a cocky womaniser and his wife a world-weary pill popper.

Things have taken a turn for the worse over the last year and the arrival of guests won't stop Eva from sitting silently and staring vacantly in her dressing gown.

What follows is a brilliantly performed piece of dark comedy as guests obliviously witter on as she tries to kill herself. With every attempt, including putting her head in the oven and tying a noose around a light fixture, another well-meaning character steps in to 'help her with the housework'.

Finally they all visit Ronald (Keith Whitaker, who is another natural) and his snob of a wife Marion (Jaqueline Beresford, a good comic), who has been swigging and sneering her way through the play.

By the final act she is very drunk and grieving for her lost beauty and youth.

Ron despairs as his wife languishes and Eva and her reluctant husband pander to Sidney and Jane, who are displaying their new-found wealth in the form of unwanted presents.

By the last slightly displaced scene, the audience look on in amusement as the power shift between the characters is cemented in an absurd game.